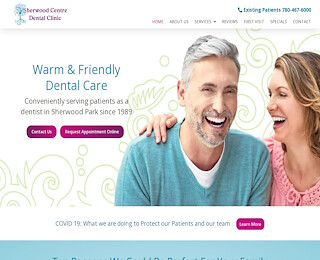 When checking into Invisalign in Sherwood Park, keep our friendly staff at Sherwood Centre Dental Clinic in mind for your treatments. Clear orthodontics have replaced conventional braces as the most preferred way to straighten teeth- with no wires, metal brackets, or bands. With Invisalign, you'll see fast results- typically within a few weeks- with less of a commitment on your part since removable Invisalign aligners are designed to fit your lifestyle. Remove Invisalign for up to two full hours each day and see consistent results.
Will Invisalign Work For Me?
Meet with our team from Sherwood Centre Dental Clinic and bring your list of questions and concerns. We'd love to provide additional information about the advantages and benefits of Invisalign in Sherwood Park. We offer a free Invisalign consultation to determine whether its system will prove a good fit for you as a patient at Sherwood Centre; if so, we'll provide a free digitized photo of your post-treatment smile and set up your first office visit. Invisalign can deliver excellent results for patients with crooked, spaced, or misaligned teeth- you'll start to see a repositioning of teeth within the first month or so.
What Are the Costs of Clear Invisalign Braces?
Invisalign costs about the same or less than conventional metal braces- and it takes less time for Invisalign to deliver results compared with other orthodontics. Saving money while getting straight teeth is just one reason why so many orthodontic patients request the Invisalign system. Additional benefits include:
No permanent cement or adherent
Discreet, virtually invisible aligners
Smooth plastic profile
No wires or metal to irritate soft tissue
Smile with confidence
Less peer pressure
Band-free treatment
Fast results
In-house treatment
No referrals at Sherwood Centre Dental Clinic
Beautiful Straight White Teeth
You'll love your brand new smile at the end of treatment- but you don't have to wait to see the changes that will take place. Our team at Sherwood Centre Dental Clinic can show you what your smile will look like through the innovation of Invisalign's computerized technology. We know that once you see the smile that awaits you, you'll want to move forward with clear Invisalign. Best of all, there's no permanent commitment like that from conventional braces, since removable Invisalign aligners come out when you want to experience freedom from treatment. Remove aligners for:
Obstruction-free brushing and flossing
Enjoyment of your favorite foods- there are no restrictions with clear Invisalign
Special occasions, such as a date night or photo session
Anytime you want to take a break from wearing Invisalign
Wear Invisalign for at least 22 hours each day, and you'll see beautiful straight teeth replace gapped or crooked teeth. Best of all, you'll have every reason to smile at home, at work, at school, and wherever else your travels take you during the day. Invisalign provides a tremendous boost of self-confidence for patients, eliminating the 'railroad' track' appearance associated with metal braces. To find out more about Invisalign in Sherwood Park, schedule a no-cost, no-obligation consult with our staff at Sherwood Centre Dental Clinic.
Invisalign Sherwood Park
Sherwood Centre Dental Clinic
7809008360
120-1020 Sherwood Dr, Sherwood Park, AB T8A 2G4
View Larger Map