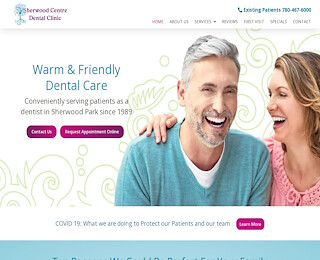 When it comes to professional teeth whitening in Sherwood Park, one dentist leads the way in advanced treatments that deliver exceptional results. Sherwood Centre Dental Clinic is pleased to offer our patients Zoom! Professional whitening treatments, considered by many as the best way to achieve the whitest smile in the least amount of time. If your teeth are stained, yellowed, or appear dull, Zoom! is your best option for seeing a bright, white smile at an affordable cost.
What is Zoom! Whitening?
Patients with severe tooth staining often require multiple whitening sessions- not so with Zoom! Whitening. With a single 90-minute in-office treatment, you'll go from dull to dazzling- best of all, Zoom! is safe for tooth enamel so that you won't experience the typical sensitivity often associated with whitening. Your dentist will apply a safe and effective hydrogen peroxide gel to your teeth and expose treated teeth to a special light that improves the appearance of teeth- up to 10 shades whiter in a single treatment. You'll save time and money when you opt for Zoom! at Sherwood Centre Dental Clinic.
Am I a Candidate For Teeth Whitening?
It's sometimes difficult to tell whether your teeth have lost their luster over time since the change is gradual. Take the tissue test to determine whether your teeth need a whitening treatment: hold a white tissue up to your teeth to see if there's a difference between the shade of your teeth and the shade of the tissue. Don't be surprised at the results- many of our patients here at Sherwood Centre Dental Clinic don't suspect they need whitening unless someone points it out to them. Zoom! Whitening can help you look your absolute best for any upcoming special occasion or event, such as:
First date
Wedding day
Class or family reunion
Picture day at school
An opportunity for career advancement
Employment interview
Any social event
Affordable Cosmetic Dentistry in Sherwood Park
You'll spend less on teeth whitening in Sherwood Park when you make our practice your family's home for full-service dentistry in one location. We'll protect your smiles with preventive services and treatments, same-day CEREC restorations, and multiple cosmetic treatments, including Zoom! A single whitening treatment can improve your quality of life, make you the center of attention in social situations, and give you the boost of self-confidence you need to succeed in life. It's more affordable than you think to own the beautiful smile of your dreams.
Zoom! vs. Conventional Whitening
As cosmetic dentistry advances, newer treatments replace out-dated methods of dental care. Zoom! delivers exceptional results in less time than other whitening treatments, making it the first choice for our patients requesting teeth whitening in Sherwood Park. See us for your next whitening session and stay with Sherwood Centre Dental Clinic for all of your family's dentistry needs, including checkups, professional cleanings, white fillings, root canal treatments, and so much more. We'll keep you smiling between visits.
Teeth Whitening Sherwood Park
Sherwood Centre Dental Clinic
7809008360
120-1020 Sherwood Dr, Sherwood Park, AB T8A 2G4
View Larger Map