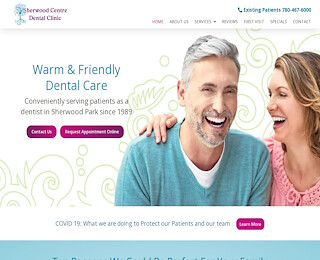 There's a general dentist in Sherwood Park where your family will receive exceptional care at a reasonable cost. Sherwood Centre Dental Clinic has earned the trust of our community by providing a wide range of dentistry services in one convenient location; fewer out-of-office visits mean lower costs when it's time to pay your dental bill. If you're searching for a warm and friendly dental staff, access to emergency treatment, and the latest dental technology, you'll find it all right here at Sherwood Centre Dental clinic.
What Are the Benefits of Seeing a General Dentist?
You'll spend less time commuting when you choose a general dentist to care for your family's beautiful smiles. There is no need to drive across town or to another city for root canal treatment, orthodontics, dental implants, laser dentistry, or extractions since we perform all of these procedures and many other under one roof- at Sherwood Centre Dental Clinic. You can see a complete list of treatments offered at our practice when browsing the 'Services' page on our website. We're pleased to provide the following treatment options:
New technology dentistry
Preventive treatments
Family Dentistry
Cosmetic procedures
Clear orthodontics
Implant Dentistry
CEREC same day dental restorations
Digital imaging
Tooth sealants
White Fillings
Zoom! Whitening
Laser Dentistry
Which Resources Do I Use to Select a New Dentist?
When choosing a new general dentist in Sherwood Park, use every resource available to make your selection. Ask friends and family where they have checkups and cleanings performed, use Web information, like reviews and testimonials, or visit the ADA website for a local referral. Feel free to visit Sherwood Centre Dental Clinic online for additional information on our practice. Schedule a new-patient practice tour, check out current specials on treatments, or explore our Library of Articles for details on services offered.
Anxiety-Free General Dentistry
Patients at Sherwood Centre Dental clinic appreciate painless dentistry practiced in our office. Rest comfortably with or without sedation during treatment, whether you come in for a professional cleaning, whitening treatment, filling, root canal, or another procedure. New technology allows us to provide quality dental care without pain in the dentist chair. If you feel apprehensive or fearful about seeing our general dentist in Sherwood Park, request sedation over the phone or when you come in for your office visit. We'll be happy to make accommodations for your comfort.
We're here for your family with a full range of general and specialized dentistry services when you need to see a dentist. Count on us for early office hours that fit your lifestyle, year-round emergency dentistry, and convenient access to our facility. We accept all insurance plans to make treatment more affordable for you. Ask our staff about same-day CEREC restorations when you call to set up your next appointment. CEREC reduces time spent in the dentist office, lowering your overall bill for treatment. More information is available on the Sherwood Centre Dental Clinic website.
General Dentist Sherwood Park
Sherwood Centre Dental Clinic
7809008360
120-1020 Sherwood Dr, Sherwood Park, AB T8A 2G4
View Larger Map