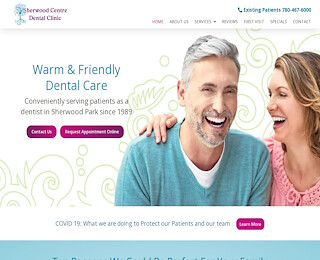 When your family needs to see a dentist in Sherwood Park, our staff from Sherwood Centre Dental Clinic will be there for you with full-service dentistry at affordable rates. Our convenient location near popular shopping and Highway 630 means checkups and cleanings scheduled around your busy lifestyle. We are proud to offer new technology treatments and services that make every visit to the dentist a more positive experience. Sherwood residents trust us for:
Same-day CEREC crowns and restorations
Digital imaging
Single-visit treatments under sedation
In-office dental plan
Emergency dental service
Early office hours
Orthodontics
Laser Dentistry
Clear Invisalign
Dental sealants
Zoom! Whitening
Dental Implants
Tooth-colored fillings
And so much more
How Do I Choose the Best Dentist in Sherwood Park?
Look for a practice offering a complimentary consultation or second opinion to establish a patient-dentist relationship that works for you. You'll find this free service provided by Sherwood Centre Dental Clinic as our way of proving our commitment to your oral health. Use your free consultation as the best way to get to know us better, tour our practice, and talk with our staff about your dental needs. We'll spend ample time answering your questions and helping you determine whether we're the right call for your family. Additional resources include:
Online reviews and patient testimonials
A referral from your current dentist
Friend and family advice
Get to Know Sherwood Centre Dental Clinic
We are the area's most popular dental clinic for a few essential reasons. Top on the list- our commitment to providing quality dentistry at reasonable rates. Choosing a full-service dentist in Sherwood Park reduces time spent commuting to a specialist or trying to find an orthodontist when your children reach their teenage years. See our complete list of services offered on our website to understand why many of your friends and neighbors are patients at Sherwood Centre Dental Clinic.
Advanced Dentistry
Our team is pleased to practice advanced dentistry, using the newest technology available to dentists today, including the latest laser dental treatments, superior CEREC restorations performed in-office, instant digital imaging, and same-day crowns. Spending less time in the dentist chair means lower dental bills when your family needs to see us. Even anxious patients rest comfortably during visits to Sherwood Centre Dental Clinic.
Schedule your Consultation Today
Take advantage of our complimentary meet-and-greet appointment, offered to you as a new patient in our practice. Discuss your smile goals with our staff, and we'll help you select the appropriate treatments and procedures to achieve your objectives. We know that a beautiful, healthy smile is at the heart of what every patient seeks when walking through our doors- we'll use our knowledge and equipment to deliver the kind of results you expect. We're not like any other dentist in Sherwood Park- you'll find us on the cutting edge of the newest advancements made available by dental innovation- all for a more positive experience every time you visit our practice.
Dentist Sherwood Park
Sherwood Centre Dental Clinic
7809008360
120-1020 Sherwood Dr, Sherwood Park, AB T8A 2G4
View Larger Map