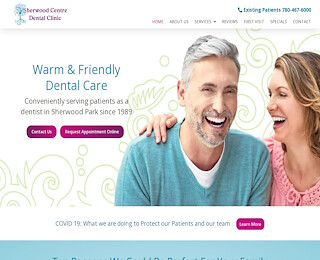 Your children deserve the highest quality of dental care when they need to see a dentist- but it doesn't have to cost you more for childrens dentistry in Sherwood Park. You'll pay about the same for pediatric dentistry at Sherwood Centre Dental Clinic compared with general dentistry. We believe in providing the same level of care to our youngest patients as adults and seniors, without charging more for treatment. Bring your child to our practice for regular checkups and cleanings, tooth sealants, fluoride treatments, early orthodontic screenings, wisdom tooth checks, and more.
What is the Difference Between a Pediatric Dentist and a General Dentist?
Pediatric dentists spend more time in dental school and provide continuing education opportunities for their staff to create a more positive experience for young patients in the dentist chair. Childrens dentistry in Sherwood Park means your child will be more comfortable during treatment due to smaller equipment that fits their mouth. At Sherwood Centre Dental Clinic, we know that patient education and instruction leads to a lifetime of healthy, beautiful smiles, beginning at your child's earliest age, which is why we recommend office visits and checkups starting at six months of age. A positive dental visit awaits your child when you choose us as your dental practice.
Do General Dentists See Children?
Most general dentists make accommodations for younger patients without actually specializing in pediatric dentistry. In your search for the right childrens dentist, request a free practice tour at Sherwood Centre Dental Clinic to see why more parents choose us as their family's only dentist. We want to make sure your child leaves our office with a smile and a memorable experience with no pain whatsoever. Pain-free visits to the dentist lay the groundwork for regular preventive dentistry that leads to fewer cavities over time. Your child will love our friendly, caring, and gentle staff as well as our child-friendly waiting area designed for their comfort- and yours.
Affordable Childrens Dentistry in Sherwood Park
Don't overpay for pediatric dental services and treatments- our staff at Sherwood Centre Dental Clinic works hard to keep the costs of treatment down by providing full-service dentistry in one location. Fewer referrals mean more money in your pocket when it's time to pay for dental care. We accept all insurance plans, helping patients maximize benefits by explaining your plan's details to you and submitting claims on your behalf. You have every reason to choose us as your family's only dentist in Sherwood Park.
We Create Lasting Smiles
You'll notice more positive checkups and brighter smiles when you visit our staff at Sherwood Centre Dental Clinic. We adopt your goal of a healthy, white smile and provide convenient access to all of the treatments you need to achieve your smile objectives. From pediatric dentistry to preventive and cosmetic treatment, we're here for you when you need to see your dentist. Explore our website to see why we are the perfect dental practice for your family.
Childrens Dentistry Sherwood Park
Sherwood Centre Dental Clinic
7809008360
120-1020 Sherwood Dr, Sherwood Park, AB T8A 2G4
View Larger Map